WHAT A DIFFERENCE 6 MONTHS CAN MAKE
Barrow ladies raise over £1000 for Cancer Research as they commit to get fit.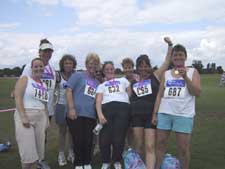 Six months ago some of the members of Nu Yu Health and Fitness wouldn't even walk a kilometre, yet alone contemplate running 5k in aid of Cancer research - but they did it!
When the members of Nu Yu were asked if they would like to get involved with the Race for Life many weren't sure, but took on the challenge once they realised that you can walk as well as run and that the event is for everyone, whatever your level of fitness. The team signed up as the Nu Yu All Stars and then for some the training began in earnest as the team took on the challenge as their fitness goal. Training involved both attending the classes, running in their own time to build their stamina, cycling and walking. In total 21 people signed up for the race, and the team managed to raise over £1000 in sponsorship for Cancer Research.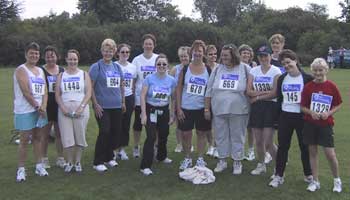 After the Race there was a celebratory BBQ at the Bishop Beveridge Club, which gave everyone the opportunity to relax, enjoy themselves and re-live their achievements of the day. Many of the team wore their medals with pride, and there can be no greater reward than them wanting to do it again next year.
For the founder of Nu Yu Health and Fitness, Mairi Taylor, the day was a dream come true, as when Nu Yu was set up she wanted to be able to share her passion for an active and healthy life with others. Her aim was to show that everyone can realise their dreams to be fit and healthy thereby enjoying life to the full. Some of the members have really surprised themselves as they have found themselves becoming fitter and able to do things they never thought they would be capable of. There have even been a few bicycles being dusted down and shown the light of day again.
Mairi would like to take this opportunity to thank all her members who have supported her through Nu Yu's first year, and to say that she is really proud of the commitment they have made to themselves. If you would like to join the fun then please contact Mairi on 07939 924811 or visit the web site on www.nuyu-fitness.co.uk. The team look forward to working out with you soon.
NEW DEPUTY WARDEN APPOINTED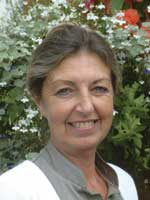 As we say goodbye and thank you to Soroya Macdonald, we welcome Carol Westbury as the new deputy warden at Humphrey Perkins High School. Soroya's infectious enthusiasm shall certainly be missed but we look forward to working with Carol in her new role. She has been involved with providing community support at the school for a number of years and will be enjoying the additional challenge of the deputy warden's role.


DANCING TO THE JUDI NICOL BAND
The Community Association presents
Dancing to the
JUDI NICOL BAND
Saturday 27th September
Humphrey Perkins High School
7.30 - 11.30pm
Tickets: £9.00 including supper
From Sue and Ted Rodgers or Betty Turner or Grants
Did you know that recent research has identified ballroom dancing as the very best way for the over 60s to keep fit, both physically and mentally. The exercise improves blood circulation, including to the brain, without overtaxing the heart. The mental agility needed to keep those complicated dance routines in harmony with the music and with your partner, helps to keep those vital circuits buzzing around within the brain just like you're a spring chicken. And anyway, it's a fun night out for young and old. Why not phone 416533 NOW to get your tickets!
HUMPHREY PERKINS HIGH SCHOOL AND COMMUNITY CENTRE
Barrow Community Centre is situated on the busy campus of Humphrey Perkins High School. The campus serves the local community and outlying villages. However, we positively welcome people from all areas.
In addition to the class programme we have a healthy number of affiliated groups specialising in a variety of topics. Clubs, groups and societies for all ages meet regularly at the community centre – we can put you in contact with:
Pre-school Learning
Mother and Toddlers
Gardening Club
Barrow Twinning Association
Guides / Scouts
Loughborough Model Flying Club
Model Railway Organisations
Women's Institute
Barrow Runners
Various Sporting Activities: Table Tennis, Archery, Football, Tennis, Fitness
An extensive list can be obtained from the Community Office.
Having an Exhibition, Show, Meeting, Party, Conference, Sporting Activity then see what we have to offer…
The campus offers two halls (1 with a stage), community lounge, gymnasium, IT suite, swimming pool and sports fields, all available for private hire evenings and weekends. If you are interested please contact a member of the community staff who will be pleased to give you information on availability and rates.
Call 01509 412385 to discuss your requirements further.
HUMPHREY PERKINS SWIMMING POOL
- PUBLIC SESSIONS
WEDNESDAY:

Public Session => 6.30 - 7.30pm
Ladies Beginners => 7.30 - 8.30pm
(All abilities from the very nervous to the more confident - Kind understanding teacher.)

THURSDAY:

Ladies Beginners => 6.00 - 7.00pm
Adults Only => 8.00 - 9.00pm

FRIDAY:

Children's Swimming Lessons => 4.00 - 8.00pm
Half hour sessions (lessons for all abilities - beginners to Life Saving 3) Warm and friendly environment
The swimming pool is also available for private hire e.g. parties etc. For further details contact Humphrey Perkins on 01509 412385
WHATS ON FOR ME?
HUMPHREY PERKINS YOUTH CENTRE
The Lunch Clubs:
Monday =>
Tuesday =>
Plus IT Club (come and improve your IT skills)

1.00 - 1.50pm
1.00 - 1.50pm

Wednesday =>
Thursday =>
(Magazine Club)

1.00 - 1.50pm
1.00 - 1.50pm

Come and have a go at working on the youth club magazine or come just for a game of pool.
Which evening club is for me?
SENIOR CLUB

AFTER SCHOOL CLUB
JUNIOR CLUB
HOMEWORK CLUB

BABYSITTING COURSE


Tuesday
Thursday
Tuesday
Tuesday
Wednesday
Thursday
Wednesday


7.00 - 9.00pm
7.00 - 9.00pm
3.15 - 4.45pm
5.00 - 7.00pm
3.15 - 5.00pm
3.15 - 4.30pm
3.15 - 4.30pm