ALIEN INVASION!?!?
The first Saturday in September saw Barrow invaded by hoards of strangely-dressed, noisy beings - no, not really aliens, just an enthusiastic crowd of Morris Dancers from all around the country.
This was part of a weekend of dance planned jointly between The Grand Union Folk Club, (which meets at the Soar Bridge Inn), Anstey Royale Chalfont Ladies Morris Team (three of whose members live in Barrow) and Anstey Morris Men.
The weekend began on Friday evening with dancers and musicians arriving at Beaumanor Hall, where they were staying over the weekend. The Grand Union, helped by a lovely warm evening, hosted an excellent session of singing and playing which started around teatime and was still going strong when I left in the early hours! Good job there were no neighbours!
Saturday saw the teams dancing at Anstey and Rothley before arriving in Barrow for lunch and dancing at the Soar Bridge Inn. A good-sized crowd watched an impressive display of dancing by all the teams from various different Morris traditions, and a few bizarre moments as some of the teams tried to dance on the bouncy castle! After lunch, the teams spread out to dance at the Three Crowns and the Hunting Lodge. Sadly the weather made it necessary for us to change our plans for the afternoon dancing - our apologies if you were disappointed, especially to the Three Crowns and the audience who gathered there.
The evening dance at Humphrey Perkins was a great success with members of the public joining us for a rare chance to dance in Barrow to one of the two bands (Hekety) and callers (Gordon Potts) in the country. I'm told that some of those who were 'danced-out' spilled over into the local pubs and 'entertained' the locals. Finally we spent Sunday morning dancing in Bradgate Park and around Newtown Linford before making our weary way home. Many of the dancers told us how much they enjoyed the weekend, the area and the hospitality. The expression 'next year' kept cropping up - the jury's still out on that one!
Our thanks to Barrow Voice and the Barrow website for featuring the event. The local papers and radio chose not to, which was sad as we had hoped to benefit the village by attracting more people from outside, but hopefully we gave enough publicity to the event for local villagers to know about it.
We thoroughly enjoyed the weekend and we hope you did too.
Lyn Cooper
LOROS TOTAL UP BY £330
LOROS appeal in Barrow raises £330 more than last year.
Once again there has been a marvellous response to this year's house to house appeal by the residents of Barrow upon Soar and the excellent sum of £2492.40 has been collected. This shows an increase of £330 on last year's figure.
Our thanks go to all who have contributed and to the wonderful team of 62 collectors, who so willingly gave their time; without all this support nothing could be achieved. It is very greatly appreciated.
Rosemary & Michael Sholl
LOCAL COUPLE CELEBRATE GOLDEN WEDDING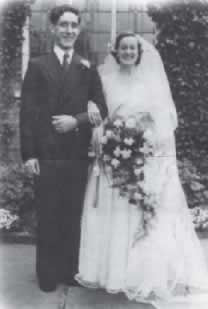 Terence Benstead and Iris Burgess were married at Quorn Baptist Church on 12 September 1953. This year saw their golden wedding anniversary.
To mark the occasion, their family organised a surprise celebration to take place in the Baptist Church Hall, where they held their wedding reception 50 years ago. The couple met while attending the Pinfoldgate Brethren Church in Loughborough.
Terence, who originates from Hull, was based at Beaumanor army barracks in Woodhouse. Iris lived at 20 Leicester Road, Quorn and worked at Drivers, the stocking factory. Iris' family originates from Barrow. She was born at 12 Mill Lane and her father, Arthur Burgess, worked for M Wright & Sons Ltd as a foreman weaver. His wife was Edith Burgess, nee Townsend.
ANYONE FOR TENNIS?
I would like to take this opportunity to introduce myself and Sileby Tennis Club to old and hopefully some new members from the village of Barrow upon Soar.
My name is Jean Gratton and I am the chairperson of the Sileby club. We are looking for new senior members, especially ladies. Throughout the summer our programme is:
Mondays ladies, Tuesdays men, Wednesdays both men and ladies, all starting at 6.30pm.
For those who want competitive tennis we have ladies, mens and a mixed team playing in the tennis leagues. We also have winter league tennis and although not playing at night, we still enjoy Sunday afternoon tennis for all who still want to plan in the winter months.
So if anyone thinks they are a budding Tim Henman, Leyton Hewitt or even a Serena Williams or just want to play and keep fit, come and join us and have a go.
For more information contact me, Jean Gratton on 01509 814861.
MYSTERY HILL
I have had access to a White's directory of Leicestershire for 1846. In Barrow it mentions only North, South, Bridge and Church Streets, Mill Lane and Bucknall Hill. Does anyone know where Bucknall Hill is? If you can help, please could you me know?
keith.chaplin@tiscali.co.uk or 01509 412196 or 89 Cotes Road.
Keith Chaplin
WEBSITE WINNER
Congratulations to Janet Hills, the lucky winner of the Website competition, which was included on the September edition of the Neighbourhood Watch newsletter. Thank you to all those who entered and particularly the Three Crowns, who provided the prize-a meal for two and a bottle of wine.
The Barrow website is managed by a small team of volunteers as an off-shoot of the Community Association.
The site is currently achieving about 1500 hits a month.
BARROW UPON SOAR LIBRARY
Leicestershire County Councilís Barrow upon Soar Library has a wide range of services for local people.
Itís FREE to join
Books for everyone from 0 - 99!
Books on tape for everyone
Free Computers to access the Internet, Email and a wide variety of office packages including word processing and spreadsheets.
Information to help with homework and enquiries
Books on local history
The library is open at the following times:
| | |
| --- | --- |
| Monday | 2:00pm - 8:00pm |
| Tuesday | CLOSED |
| Wednesday | 10:00am - 12:30pm & 2:00pm - 5:00pm |
| Thursday | CLOSED |
| Friday | 10:00am - 12:30pm & 2:00pm - 7:00pm |
| Saturday | 10:00am - 12:30pm |
BARROW OPEN GARDENS 2004
Returning by popular demand!
Why not open your garden and help our village project?
The highly popular Open Gardens Weekend returns to Barrow next summer over the weekend of Saturday and Sunday 26th - 27th June 2004. The weekend was a great success when it took place as part of the Millennium celebrations, with visitors able to enjoy many creative and unique displays in the village, from compact back-garden treasures to some of the village's larger old walled gardens.
We need residents who would be willing to open their gardens and show off their horticultural talents. Remember, we want as many sizes and styles as possible to reflect the varied character of the village. Now's your chance to upstage Diarmuid, Charlie and Alan!
If you would like to open your garden, or can assist with the organisation of the event, you need to print out and fill in an entry form and return to the address on the form. A meeting of openers will be arranged to discuss arrangements nearer the date - probably in March 2004.
The Open Gardens Weekend 2004 - in aid of the Fishpool Way Park project.