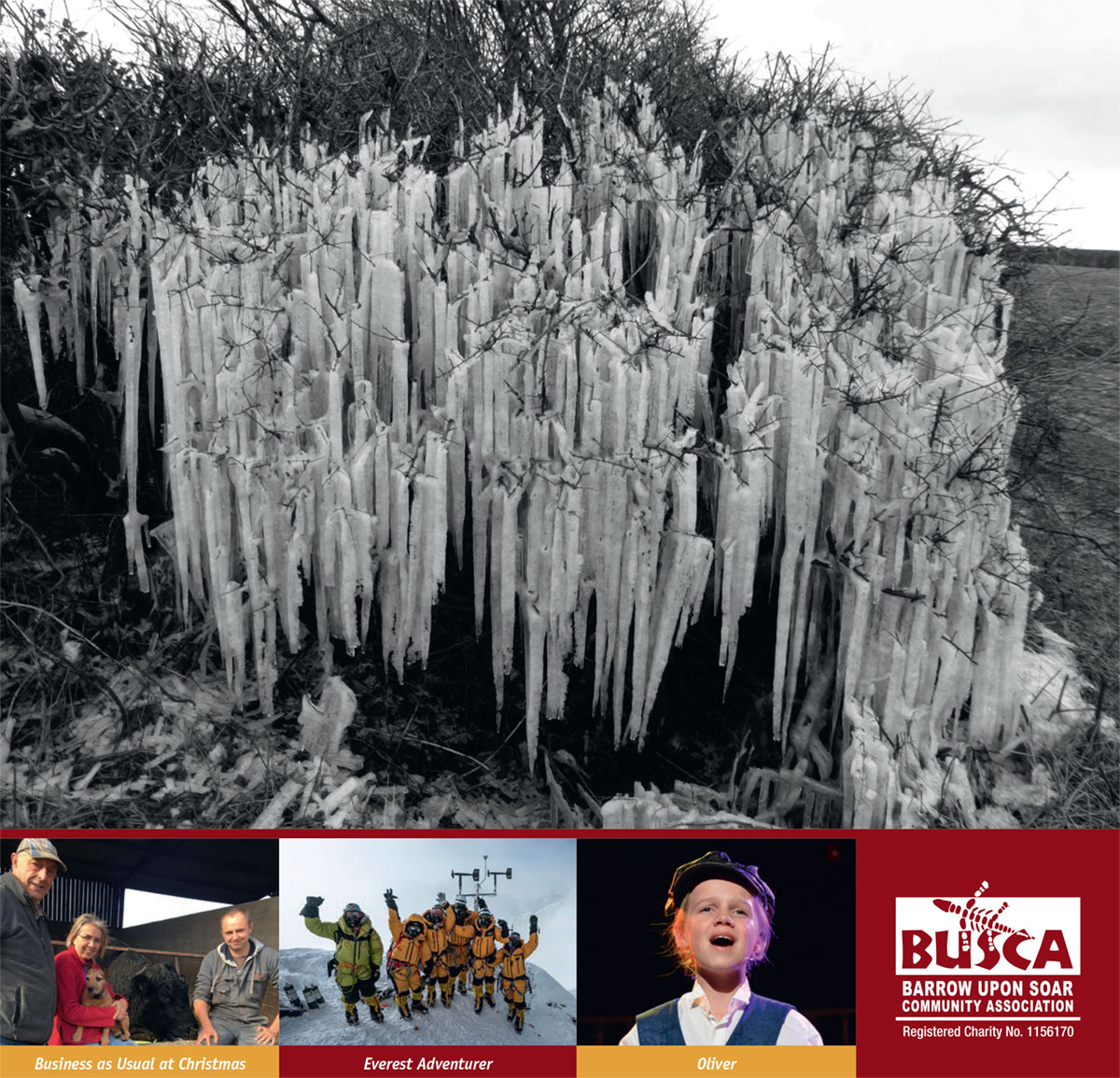 Merry Christmas! Welcome to this bulging Winter edition. We've features to help you find fun and festive drinks in local pubs, be crafty (in the nicest of senses), and be able to find moments of calm on stressful days through mindfulness.


And we're not forgetting those amongst us who have to work on Christmas Day. There's so much going on in the village at present - if you took part in everything you'd never sit still. You can join theatre groups, Health Walks, a Footpaths Group, a Good Neighbour Scheme, plan to watch a Centre Stage production, listen to Charnwood Orchestra or help Barrow become a highly successful Britain in Bloom village next year too. As this is our Christmas edition we have all the church services, a Christmas quiz and the origins of yule logs.

What we haven't got is an article relating to sports. We know this is a weakness but it's because we haven't got a Sports Editor. If you love sports, and know what's going on in the village, do get in touch barspiller@btinternet.com .The BV team can help with the actual writing of articles if you can provide the info.
Gaynor Barton, Editor
NB Please note that 'Barrow: a Year in Pictures' has moved to the village website.
Front Cover: Icicles caused by splash back in Cotes Road, March 28th 2013.

---
Community Hub Update
BUSCA has received formal notice that the application to build a Community Hub on the picnic field on Fishpool Way has been refused.

The grounds for the refusal are as follows:

Reason 1 - This site is designated as a Local Green Space in the Barrow upon Soar Neighbourhood Plan.
Policy BuS5 states that development that is not clearly related to the use of the areas as Local Green Spaces will not be supported other than in very special circumstances The need for a community centre is supported by policy BuS11 of the Neighbourhood Plan and this proposes that a sequential test will be applied to the location of such a facility. It is considered that the alternative sites which have been explored are not exhaustive and there are likely to be other sites which exist, possibly beyond the settlement boundary, which are not afforded the same level of protection as the Local Green Space. Insufficient evidence has been provided to satisfy the requirements of policy BuS11 and the need for the facility is not considered to be sufficiently special circumstances to outweigh the protection provided by policy BuS5. The proposal is considered to be contrary to policies BuS5 and BuS11 of the Barrow upon Soar Neighbourhood Plan and paragraphs 99-101 and 143-145 of the National Planning Policy Framework which seek to protect Local Green Spaces.

Reason 2 - Policy CS 13 of the Charnwood Local Plan 2011 to 2028 Core Strategy and policy BuS1 of the Barrow upon Soar Neighbourhood Plan seek to conserve and enhance the natural environment. In accordance with this policy impacts on biodiversity will require mitigation. The applicant has failed to provide evidence that adequate mitigation will be provided to compensate for the loss of most of the trees on the site and the adverse impact of this development upon biodiversity. Consequently, the proposal is considered to be contrary to the Policy CS 13 of the Local Plan Core Strategy 2011-28, policy BuS1 of the Barrow upon Soar Neighbourhood Plan and paragraphs 170 and 175 of the National Planning Policy Framework.

Reason 3 - Policy CS16 of the Charnwood Local Plan 2011 to 2028 Core Strategy expects development to incorporate sustainable drainage to help reduce the risk of flooding. The site is partially within Flood Zone 2 where a Flood Risk Assessment is required. Inadequate information has been provided to assess whether the proposed development would reduce the risk of flooding. In addition, insufficient justification has been provided for the use of a non-mains foul drainage system. The proposal is considered to be contrary to policy CS16 of the Charnwood Local Plan 2011 to 2028 Core Strategy and paragraphs 155 and 156 of the National Planning Policy Framework.

Reason 4 - The application site is adjacent to a playing field used as cricket pitch by Barrow Town Cricket Club. There is a potential conflict between the proposed development and the use of the cricket pitch due to the risk of ball strike. Information is required to assess this risk and mitigate the potential conflict between the development and the use of the adjacent playing field for cricket. In the absence of this assessment the proposal is considered to be contrary to the National Planning Policy Framework and the promotion of healthy and safe communities.

BUSCA Trustees will shortly be considering "what next" in their endeavours to get a village hall for Barrow.
Judith Rodgers
If you wish to see more detail you need to go to the Planning Explorer section of the Charnwood Borough Council and select the specific application giving its reference P/18/0608/2. Charnwood Borough Council Planning Services