Arts
---
Meat and
two veg –
a cocktail of
adventure
and song

Centre Stage makes its sixth visit to Barrow on Friday March 17th. Popular Cartoon de Salvo Theatre Company will be visiting Barrow again with their inspired play Meat and Two Veg.This is part of the Leicestershire's acclaimed Rural and Community Touring Scheme, Centre Stage, which brings live professional events to village venues.
You love her. She loves me. I love you. It's seaside Britain in the wake of the war, in a tale derived from Twelfth Night, and Violet – or is it Vince? – is confused.
Her mother and father seek refuge in strong tea, but before their very eyes, rock'n'roll is brewing. Only a boat full of skiffle players can untangle the knot –
but will they ever reach Blighty?
Slapping a lick of rainbow paint on monochrome 50s England, Cartoon de Salvo presents its acclaimed tall tale of games around a washing line and has treats in store for the audience.
The appeal of Cartoon de Salvo is unmatched – audiences for this muchloved
theatre company span all walks of life and, most excitingly, all generations.
Be sure not to miss Meat and Two Veg – it's just the best! If you've visited any
of our earlier Centre Stage shows or if you've heard other people talking about them, you know you'll be in for a real treat.
The show starts at 7.30 in Humphrey Perkins Community Centre on Friday
March 17th.Tickets cost £6.00 and £5.00 (concessions and children) but if you buy in advance, you will benefit from a special discounted rate of £5.00 and £4.00.Tickets can be bought from The Paper Shop, High Street, Barrow or from Judith Rodgers on
01509 412063 or
rodgers_david@hotmail.com
Excalibur! 2005/6 By Ginny Willcocks
The Panto Group's
production
This year's panto was Excalibur, a spoof of the story,"The Sword in the Stone." It tells the story of the young Arthur, who accidentally pulls the sword from the stone, and his mother, fearing terrible trouble for her son, tells the wizard, Merlin, that his friend, Derek, did the deed and thus Derek is declared King. As you might imagine Derek is not suited to this task at all and after a number of years it transpires that Arthur is the rightful ruler but by this time the kingdom has been over run by marauding Scots.
Arthur has to retrieve the Treasures of Britain to help defeat these northern raiders. Arthur and his knights set off on their quest, assisted by the TB detector which looks extremely similar to Dr Who's Tardis, and they retrieve these treasures from Australia,Yorkshire, Malibu and Sileby!
The story finishes with the threat of a battle between the fearsome Scots and Arthur's knights which is replaced with a fight between the Scot's Champion and King Arthur's Champion.After the fight the two sides make friends and live happily ever after "Oh yes they do!"
This was the 10th panto performed by the village Panto Group and it included all the usual audience participation, slap stick, fights and chases and some lovely songs to sing along with. Bob Mee and his back stage crew did a wonderful job once again with excellent scenery and props.
Thanks must go to Marie Slater and Jan Smith for their musical direction and to Jonno, Ollie and Richard for the light and sound, to Rose and Tilly for their sewing, to Keith Chaplin, Judith Rodgers and Nick Carter our small but very able band.Then last but by certainly no means least to Sue Rodgers for her tireless dedication in sorting out costumes, coaching, advising and stage direction and linking the production team together.
Hope you all enjoyed the show.The group haven't yet decided about their next production for 2007, auditions and rehearsals will begin at the end of August. If you would like to join the
group you will be most welcome.
You can ring either Judith Rodgers on 412063, Sue Rodgers on 416533 or
Ginny Willcocks 413996.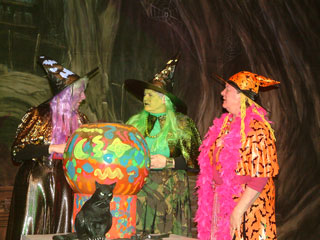 Honk!

Youth Theatre production

Carol and Gordon Kenneth did it again with the Youth Theatre's production of "Honk" last November.Those of you who went along to see the show cannot fail to admire Carol and Gordon's achievement with this group of young people.They produced a colourful, lively, tuneful show performed with enthusiasm and zeal by the 40 children, ranging in age from 7 to 17.
The title does not really give too many clues, if any, regarding what the story is all about. Basically it tells the tale, in songs and dances, of The Ugly Duckling as per the Hans Christian Andersen Fairy Tale.
The adult production of the show won the Laurence Olivier Award for the Best New Musical in 2000 and this production was the junior version of the same show.The music was, in my opinion, very Jazzy and consequently difficult to sing along to but these Barrow youngsters picked it up brilliantly, with the expert assistance of David Spiller on the piano and Marie Slater who coached them with their singing.
Some notable performances are certainly worth a mention, Abi Crossley, as the long suffering Ida, the ducklings' mother, sang and acted brilliantly as did Ollie Cavner as her husband Drake. Izzy Fortuin who played the part of Blizzard has a truly beautiful voice and who will ever forget Andy Kenneth's wonderful portrayal of "Ze Cat" and Luke Penrose as the cheeky bullfrog. Finally, well done to Alex Norris who played the lead character, "Honk", so well. His rendition of "Different", when he was lost, brought a tear to the eye.
Well done all of you and once again I'm certainly looking forward to next year's production which I have just discovered is to be the Disney version of "Aladdin".

By Ginny Willcocks
Community Association's
Sell Out Dance Tour
To Buenos Aires!

Let the sequins sparkle! Perfumes mingle in the air.Spot lights spin around the room. Darren and Lilia step on to the dance floor.... left, right, left, side, toe.
Well, OK. It was my husband and me and a sell-out room full of Barrow residents at the Community Centre for BUSCA's very own Come Dancing Event.The Barrow Ballroom
and Latin American Dance Group led us on a dancefrom Vienna to Buenos Aires,New Orleans to New York.
And to think at the beginning of the evening my husband had complained, "Don't expect me to be able to do it.
You know I can't dance."Aching feet apart, it was all made so easy - even those of us with two left feet soon learned which left one to put first....left, other left, left, side, toe. With each dance broken down for us into small manageable bits and slowly put together everybody was soon having a go at, and enjoying, the waltz, rumba, tango and rock 'n' roll.Friendly people in easily identifiable T-shirts mingled on the dance floor to offer helpful hints as we trod on each other's toes.We had plenty of time to try out our new skills to dance tunes. Bumping into people, was just another form of introduction... left, right, left, side, sorry! Towards the end of the evening we were wowed by an enthusiastic display of Lindy Hop dancing popular in the 1930s. Even my flat-footed husband was heard to say "I'd love to get onto the dance floor and be able to do that".Well, he can put his feet where his mouth is... all three of them.The Barrow Upon Soar Ballroom and Latin American Dance
Group hold lessons every week in Sileby.Anybody interested in learning new dances - for a wedding, a graduation ball or just for fun,can find out more by getting in touch with John Perry on (01509) 416549 or Sue Rodgers on (01509) 416533.
By the end of the evening, we knew enough to go home andhave a quick tango round the kitchen before crawling into bed and falling asleep to sweet dreams of ... left, right, left,
side, toe.

Karisa Krcmar