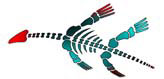 ---
Three seasons in one
This edition takes a look at summer events, updates you on what is happening this autumn and previews Christmas festivities in the village. It just goes to show how much there is going on in Barrow at the moment. Is it time to think about a new community building? Inside is an invitation to get involved in this ambitious project. The volunteers taking forward recommendations from the Parish Plan share news of their progress and even if you are not a fan of 'Time Team', have a look at the story of the big dig at the Willow Way site.

If you have any comments on this issue, or ideas for future editions we would love to hear them. Full contact details are on the back page.
Frances Thompson.
The article in the summer edition of BV regarding NHS care at Soar Valley Dental Practice caused some misunderstanding which resulted in a number of enquiries at the surgery for which we apologise. If anyone would like to clarify the services which are offered. please contact 01509 413965.
Village Directory and Welcome Pack
The Parish Plan identified a desire for better information to residents and visitors about village amenities and for help to newcomers to become involved in the community life of Barrow.

The Barrow Voice Team, under the umbrella of the Community Association, plans to address these two issues by creating a Welcome Pack which will be given to every new resident of the Willow Way development (and other newcomers) as they move in. It will also be available free as a Barrow Directory to any existing resident who would like a copy. The Welcome Pack and Directory will be based on an updated and expanded version of Who Goes, the guide to community groups which the Community Association has produced in the past. You will find lots of extra information about village facilities and amenities and hopefully, it will be a really useful source of local information. The Barrow Directory will also be available in a down-loadable version on the village website, www.barrowuponsoar.org.uk

We have been successful in gaining funding for this project and we aim to have the Welcome Pack and Directory printed by the end of September. So expect to see a flier through your letter box telling you all about it (again!) and telling you where to pick up your copy (library, Post Office, Paper Shop, etc).